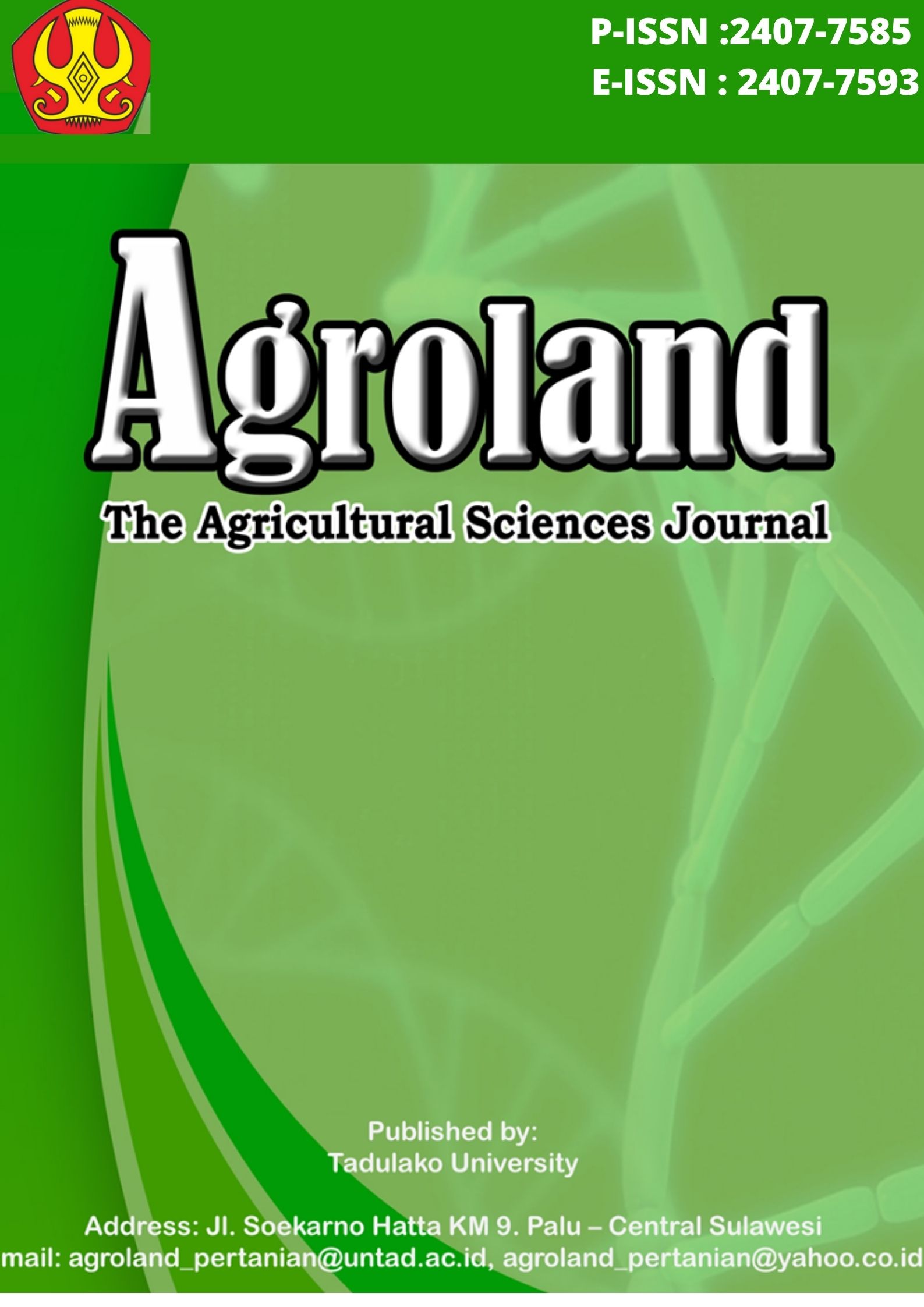 MORPHOLOGICAL CHARACTERISTICS OF SUPERIOR PURPLE AND LOCAL RED CORNS
Article History
Submited : March 17, 2022
Published : April 22, 2022
Before crossing plants, it's critical to understand their morphological characteristics. Differences in plant morphological features distinguish the advantages of each plant. The objective of this study was to determine the morphological characteristics of superior purple and local red corn cultivated at the height of 22 meters above sea level, as well as their adaptability. Kalukubula Village, Sigi Biromaru District, Sigi Regency, Central Sulawesi was the site of this study. The research took place between October 2020 and February 2021. A Randomized Block Design was used in this investigation, with two corn kinds as treatments: The experiment was repeated 16 times with purple superior corn and red corn, yielding 32 experimental units. The quantitative data was examined using ovarian analysis (ANOVA) followed by a 5% Tukey HSD test to assess the difference between the two corns. Plant height, number of leaves, leaf length, stem diameter, age of male flower appearance, harvest age, fruit diameter with husk, length of cob, number of seeds per fruit, the weight of kernel per fruit, and dry kernels production of tons/ha were all found to have a higher growth rate than purple corn kernels. The qualitative characters of superior purple corn kernels include: leaf veins and leaf bases are purple, stems are purplish-green, female flowers are white with anger, the husk is purplish-green, and kernels are purple-black. Local red corn include white leaf veins, light green leaf bases, purple stems, light green female flowers, purple husk, and red kernels.
Amzeri. A., 2015. Dasar-Dasar Pemuliaan Tanaman. UTM Press. Universitas Trunojoyo Madura.
Harli, M.HG. Yasin, dan Syamsuddin, 2017. Pengaruh Interaksi Genotipa Jagung Ungu (Zea mays L.) Pada Dua Lingkungan Tumbuh. Jurnal Agrisistem. 13(2): 155-163.
Herlinda, G., S.D.A.S. Soenarsih, dan S. Syafi, 2018. Keragaman Dan Heritabilitas Genotip Jagung Merah (Zea Mays L.) Lokal. Techno. 7(2): 191-199.
Kristiari, D., N. Kendarini, A.N. Sugiharto, 2013. Seleksi Tongkol Ke Baris (Ear To Row Selection) Jagung Ungu (Zea mays var Ceratina Kulesh). Jurnal Produksi Tanaman. 1(5): 408-414.
Maulidha. A.R., dan A.N. Sugiharto, 2019. Pengaruh Kombinasi Persilangan Jagung (Zea mays L.) Terhadap Karakter Kualitatif pada Hibridanya (F1). Jurnal Produksi Tanaman. 7(5): 755-765.
Mustakim, Samudin, S., Maemunah, Jeki, dan Yusran, 2020. Karakter Warna dan Persentase Perubahan Warna Hasil Persilangan Jagung Ungu dan Jagung Kuning Manis pada Generasi F1, F2 Dan F3., J. Agrotekbis. 8(2): 251-256.
Samudin, S. (2008). Pemulian Tanaman I. Tadulako University Press. Palu
Samudin, S. (2009). Pemulian Tanaman II. Tadulako University Press. Palu
Suleman, R., N.Y. Kandowangko, dan A. Abdul, 2019. Karakterisasi Morfologi Dan Analisis Proksimat Jagung (Zea mays L.) Varietas Momala Gorontalo. Jambura Edu Biosfer Journal. 1(2): 72-81.
Syukur, M., S. Sujiprihati, dan R. Yunianti, 2015. Teknik Pemuliaan Tanaman. Edisi Revisi. Penebar Swadaya, Jakarta.
Widodo, T.W., A. Asari, dan A.N. Elita, (2007). Bio Energi Berbasis Jagung dan Pemanfaatan Limbahnya. Balai Besar Pengembangan Mekanisasi Pertanian Serpong Badan Litbang Pertanian
, Departemen Pertanian Tromol Pos 2 Serpong, Tangerang. 1-13.
Wijayanto, T., 2007. Karakterisasi Sifat-Sifat Agronomi Beberapa Nomor Koleksi Sumberdaya Genetik Jagung Sulawesi. Jurnal Penelitian dan Informasi Pertanian "Agrin". 11(2): 75-83.
Maemunah, M., Samudin, S., & Mustakim, M. (2022). MORPHOLOGICAL CHARACTERISTICS OF SUPERIOR PURPLE AND LOCAL RED CORNS. AGROLAND The Agricultural Sciences Journal (e-Journal), 9(1), 29 - 35. https://doi.org/10.22487/agroland.v0i0.1218
Copyright (c) 2022 AGROLAND The Agricultural Sciences Journal (e-Journal)
This work is licensed under a Creative Commons Attribution-ShareAlike 4.0 International License.