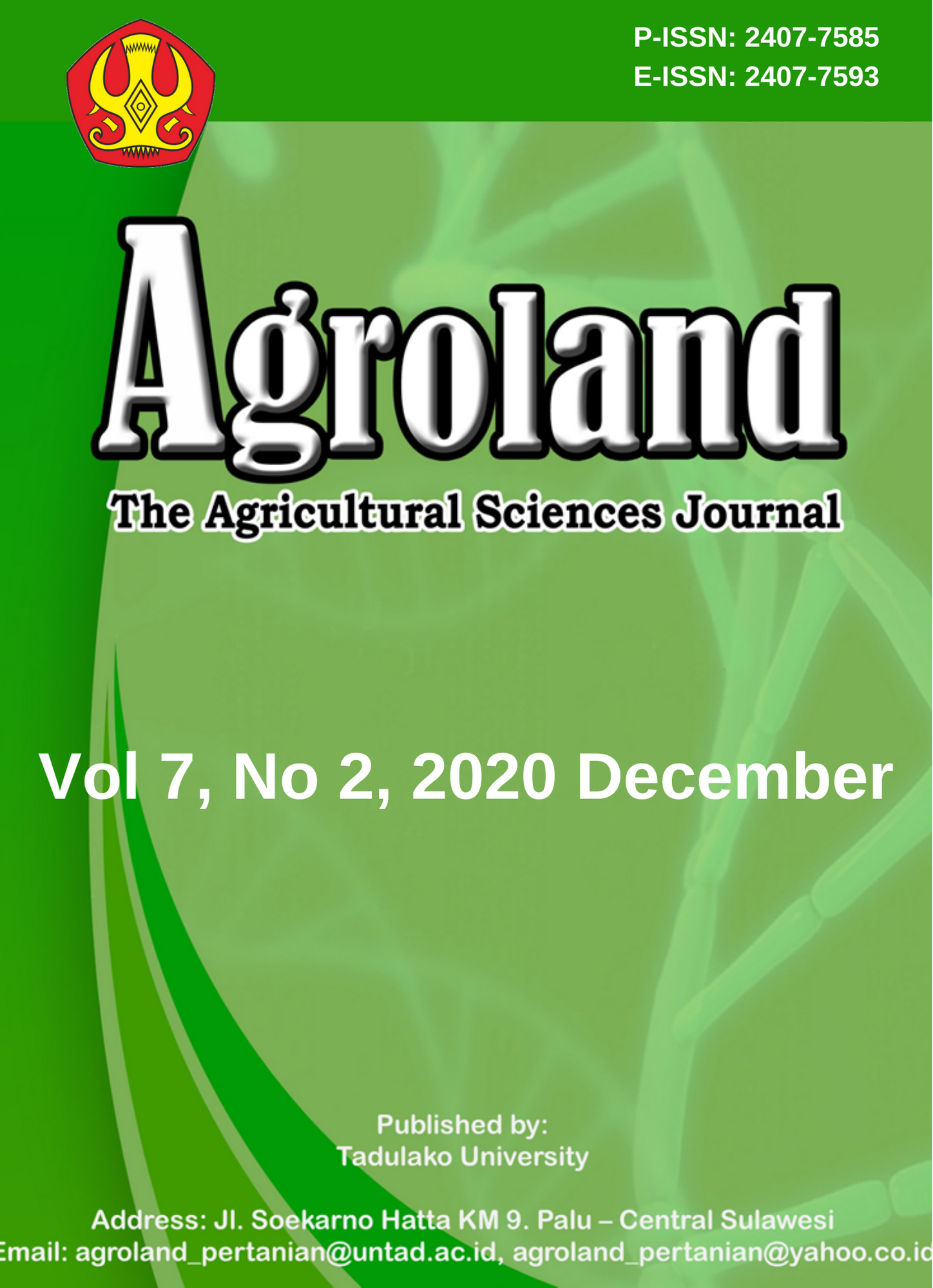 PHYSICAL, CHEMICAL, AND SENSORY CHARACTERISTICS OF INSTANT NOODLES WITH PURPLE SWEET POTATO FLOUR (IPOMOEA BATATAS L. POIR) SUBSTITUTION AT VARIOUS CONCENTRATIONS
Article History
Submited : January 15, 2021
Published : January 18, 2021
Sweet potatoes in general, including vines that have tubers as a producer of carbohydrates, but the quantity and quality is very different from other tubers. Instant noodles are generally made from raw materials of wheat flour, but with the abundance of sweet potatoes found, noodles are made using purple sweet potato flour instead of wheat flour. The purpose of this study was to determine the effect of purple sweet potato flour substitution at various concentrations on the physical, chemical and sensory tests of instant noodles. The study was conducted at the Agroindustry Laboratory, Faculty of Agriculture, University of Tadulako, from June to December 2019. The experiment was arranged using a Completely Randomized Design (CRD) with 1 factor, namely the substitution of instant noodles purple sweet potato flour at a concentration of 0.5,10,15, 20.25 and 30%. The treatment was repeated 3 times so that 21 units of the experiment were obtained. For sensory testing using a Randomized Block Design (RBD) with a panelist of 30 people. Observation parameters consisted loss of solids due to cooking (KPAP), water absorption, water content, ash content and sensory tests. The results of the study of purple sweet potato flour substitution at various concentrations gave the best effect on the concentration of 30% on instant noodles produced based on physical, chemical and sensory properties. With the highest loss of solids due to cooking ( KPAP). The absorption of instant noodles decreases with increasing concentration of purple sweet potato flour. Instant noodle water content tends to be constant in every treatment. Ashes of instant noodles increase with increasing concentration of purple sweet potato flour and the sensory properties of color, texture, aroma, and taste of instant noodles produced increase with increasing concentration of purple sweet potato flour with hedonic scale categories like. Noodles substituted with purple sweet potato flour can be consumed as instant noodles such as those circulating in the market.
Ambarsari I, Sarjana, Choliq A. 2015. Rekomendasi dalam Penetapan Standar Mutu Tepung Ubi Jalar. Ungaran (ID): Balai Pengkajian Teknologi Pertanian (BPTP), Jurnal Standarisasi 11(3) : 212-220.

AOAC, 1970. Official Method and Analysis of The Association of The Official Analytical Chemists. 11th Edition, Washington D.C.

Apriyantono, A., D. Fardiaz, N. L. Puspitasari., Sedarnawati dan S. Budiyanto,1989. Analisis Pangan. IPB-Press, Bogor.

Aryee FNA, Oduro I, Ellis WO, Afuakwa JJ. 2013. The physico- chemical properties of flour samples from the roots of 31 varieties of cassava. J. Food Control. 17: 916-922.

Asman Sarif Daulay.,2009. Karakterisasi Mie Instan Dengan Subtitusi Tepung Jagung Dari Berbagai Varietas.(Skripsi). Departemen Teknologi Pertanian Fakulatas Pertanian Universitas Sumatera Utara.

Astawan, M., 2004. Membuat Mie dan Bihun. Penebar Swadaya, Jakarta.
Badan Pusat Statistik, BPS., 2006. Import Gandum Indonesia.
Betty., Yusmarini dan N. Harun 2016. Mutu sensori mi instan yang dibuat dari substitusi pati sagu dengan tepung ubi jalar ungu. Jurnal Online Mahasiswa Faperta Universitas Riau. 3(2):1-7.

BPS. 2014. Tabel Luas Panen- ProduktivitasProduksi Tanaman Ubi Jalar. Badan Pusat Statistik.
Fassano, A., dan Carlo, C. 2012. Celiac Disease. New England Journal of Medicine, 367:25, pp. 2419-2426.

Hambali ,E, Et.Al, 2006. Membuat Aenka Olahan Jagung. Penebar Swadaya, Jakarta.

Hamed, M. G. E., Hussein, M. F., Refain, F. Y., dan El-Samahy, S. K. 1973. Cereal Chem. 50 (2): 133

Hasyim, A. dan M. Yusuf, 2012. Ubi jalar kaya antosianin pilihan pangan sehat. http://www.pangan.litbang.deptan.go.id diakses 16 April 2019.

Herry Santosa, Noer Abyor Handayani, Hasbi Ashidqi Bastian, Dan Ilga Mega Kusuma.2015.Modifikasi Tepung Ubi Jalar Ungu (Ipomoea Batatas L. Poir) Dengan Metode Heat Moisture Treatment (Hmt) Sebagai Bahan Baku Pembuatan Mi Instan. Jurusan Teknik Kimia, Fakultas Teknik, Universitas Diponegoro. Metana, Vol. 11 No. 01, Juli 2015, Hal. 37 – 46.

Ira Ervinda Naim,.2016. Kajian Substitusi Tepung Terigu Dan Tepung Ubi Jalar Ungu Berkadar Pati Resisten Tinggi Terhadap Kualitas Muffin.(skripsi). Fakultas Pertanian Universitas Lampung.

Jiang, X. 2001. Sweet potato processing and product research and development at the Sichuan Academy of Agricultural Sciences. Di dalam: Sweet Potato Post Harvest Research and Development in China. Proc. of an Int. Workshop at International Potato Center, pp 114-126.

Lingga, P. 1995. Petunjuk penggunaan pupuk. Penebar Swadaya. Jakarta.

M. Anastasia Ari Martiyanti1, Dan Vania Vivian Vita.2018. Sifat Organoleptik Mi Instan Tepung Ubi Jalar Putih Penambahan Tepung Daun Kelor . Teknologi Pangan Politeknik Tonggak Equator, Jl. Fatimah 1-2.Foodtech Jurnal Teknologi Pangan, Vol.1, No.1.

Mulyadi, A.F., S. Wijana, I.A. Dewi, dan W.I Putri.2014.karakteristik organoleptik produk mie kering ubi jalar kuning (Iphomea batatas) (kajian penambahan telur dan CMC). Jurnal Teknologi Pertanian. 15(1):25-26.

Nintami, A. L. dan N. Rustanti. 2012. Kadar serat, aktifitas antioksidan, amilosa dan uji kesukaan mi basah dengan substitusi tepung ubi jalar ungu (Ipomoea batatas var Ayamuraseki) bagi penderita diabetes mellitus tipe-2. Jurnal Nutrisi Kolagen. 1(1):382-387.

Oh, N.H., P.A. Seib and D,S, Chung, 1985. Effect of processing varabels on
quality characteristics of dry noodles. Cereal Chem. 4 (6):125.

Rice-Evans, C. A., N. J. Miller, and G. Paganga. 1997. Antioxsidant properties of phenolic compounds. Journal Trends in Plant Science, 2 (4).

Santoso, W. E. A dan T. Estiasih. 2014. Kopigmentasi ubi jalar ungu (Ipomea batatas) dengan kopigmen naka seinat dan protein whey serta stabilitasnya terhadap pemanasan. Fakultas Teknologi Pertanian. Universitas Brawijaya Malang. Jurnal Pangan dan Agroindustri.

Saidatul Husnah, 2010.Pembuatan Tepung Ubi Jalar Ungu (Ipomoea Batatas Varietas Ayamurasaki) Dan Aplikasinya Dalam Pembuatan Roti Tawar.(Skripsi). Fakultas Teknologi Pertanian Institut Pertanian Bogor.
Soekarto, S.T., 1982. Penilaian Organoleptik untuk Industri Pangan dan Hasil
Peertanian. Pusbang-Tepa IPB, Bogor.

Suarni. 2009. Prospek Pemanfaatan Tepung Jagung Untuk Kue Kering (Cookies). Jurnal Litbang Pertanian 28(2): 63-71.

Sugiyono, E. Setiawan, E. Syamsir, dan H. Sumekar. 2011. Pengembangan Produk Mi Kering dari Tepung Ubi Jalar (Ipomoea batatas) dan Penentuan Umur Simpannya dengan Metode Isoterm Sorpsi. Jurnal Teknologi dan Industri Pangan. 12(2): 164- 170.

Suismono. 1995. Kajian teknologi pembuatan tepung ubi jalar (Ipomoea batatas L.) dan manfaatnya untuk produk ekstrusi mi basah. Tesis. Fakultas Teknologi Pertanian, Institut Pertanian Bogor, Bogor.

Sunaryo, E. 1985.Pengolahan Produk Serealia dan Biji-Bijian.Teknologi Pangandan Gizi. FATETA, IPB. Bogor.

Sulistiyo, C. N. 2016. Mempelajari Pembuatan Mie Instan Dengan Menggunakan Tepung Komposit Dari Terigu, Empat Varietas Ubi Jalar, Dan Kacang Hijau. Skripsi. Fakultas Teknologi Pertanian, IPB, Bogor.

Susilawati dan Medikasari. 2008. Kajian Formulasi Tepung Terigu dan Tepung dari Berbagai Jenis Ubi Jalar Sebagai Bahan Dasar Pembuatan Biskuit Non-Flaky Crackers. Prosiding Seminar Nasional Sains dan Teknologi II 2008. Universitas Lampung, 17-18 November 2008.

Ubaidillah, M., 2000. Penamabahan Pegental Pada Mie. Karya Ilmiah. F-MIPA USU, Medan.

Uba'idillah, 2015. Karakteristik Fisiko Kimia Mie Kering Dari Tepung Terigu Yang Di Substitusi Tepung Gadung Termodifikasi. Fakultas Teknologi Pertanian universitas Jember.

Utomo, J.S. Dan Yulifianti, R.2011.Karakteristik Mie Berbahan Baku Terigu Lokal Dan Ubi Jalar Ungu. Balai Penelitian Tanaman Kacang-Kacangan Dan Umbi-Umbian. : Prosiding Seminar Hasil Penelitian Tanaman Aneka Kacang dan Umbi 2011 768-775.

Widatmoko RB, Estiasih T. 2015. Karakteristik fisikokimia dan organoleptik mie kering berbasis tepung ubi jalar ungu pada berbagai tingkat penambahangluten. J Pangan Agroindustri 3(4): 1386-1392.

Wiguna AA (2009) Meraih Peluang Dengan Ubi Jalar Ungu. http://bisniskeuangan. kompas.com diakses 12 Desember 2019.

Winarno, F. G., 2002. Kimia Pangan dan Gizi. PT. Gramedia Pustaka Utama, Jakarta.

Woolfe, J. A. 1992. Sweetpotato an untapped food resource. Cambridge University Press, New York, p. 15.
Rahim, A., Rostiati, R., & Pratiwi, P. (2021). PHYSICAL, CHEMICAL, AND SENSORY CHARACTERISTICS OF INSTANT NOODLES WITH PURPLE SWEET POTATO FLOUR (IPOMOEA BATATAS L. POIR) SUBSTITUTION AT VARIOUS CONCENTRATIONS. AGROLAND The Agricultural Sciences Journal (e-Journal), 7(2). https://doi.org/10.22487/agroland.v7i2.633